Good News Project facilitated two service groups in March 2017. We sent 19 volunteers to help with the cleanup efforts in Lumberton, North Carolina.
We are sending another group March 11-17, 2018.
Hurricane Matthew left many people without homes, and Lumberton NC, in Robeson County, was one the hardest hit. Since October of 2016 many, many volunteers, from all over our country, have aided in the long process of cleaning up homes for families to return to. Like other disaster relief efforts, this one will be an ongoing need for years to come. Some homeowners have been able to move back, but many still cannot!
Imagine your house flooded out, following 24″ of rain, partnered with high winds. The insulated crawl-space under your first floor will take months to dry out, once it is exposed to the air. The drywall that formerly held your family portraits is warped and wavy. The ceiling is drooping and unsteady. The electricity needed to be cut off as a means of keeping your house fire safe. You can no longer live in the home you grew up in!
Volunteers can offer their assistance for a week, we'll handle the details.
Good News participation is open to adult volunteers of any faith who are in good health and are willing and able to work. We have teamed up with a well established disaster response unit that has worked with hurricane relief in the past. That team has the local connections to the homes and homeowners in need.
Volunteers are responsible their own travel and living expenses, which are tax deductible under #170 of the IRS code, "as an expense in giving service to a charitable organization." Participation fees include accommodations, three meals a day, transportation during the week, name tag, denim shirt and use of GNP t-shirts throughout the week. Participation fees do not include your travel expense to and from Lumberton, NC, any weekend travel arrangements or activities you may choose to make, and personal laundry costs.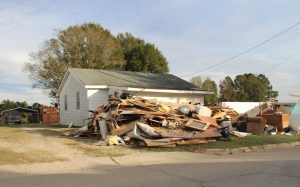 What are the participation fees? $450 for one-week. This includes overnight accommodations (double occupancy) at the Fairfield Inn-Marriot in Lumberton, three meals a day, transportation during the week, name tag, denim shirt and use of GNP t-shirts throughout the week. An application needs to be filled out and submitted to Good News Project with your $200 deposit. Print an application form You may submit your application and deposit through the mail, 1106 Fifth St Wausau WI 54403, or email your application and pay your deposit online here.
What can you expect as a volunteer? A hard working group of people with a goal to get NC residents back into their homes. A physical, and rewarding, experience. A Monday-Friday work week, with a 7 to 8 hour work day. Camaraderie with like-minded volunteers. A sense of purpose. Doing what we can, because we can. You can check out the video from our first trip here.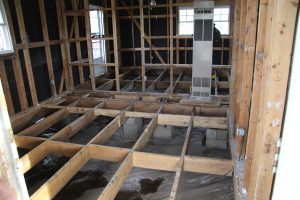 What can I expect? While our 2017 trips focused on mucking out and mold remediation, our 2018 trip will focus more on all stages of reconstruction. Plumbers and electricians are in especially high demand.
What can you bring? TBD. We will know more about what tools and items to pack as we get closer to the actual time of our week of service.