"A couple months ago I borrowed a wheelchair for my mom because she was having foot surgery. Two days after her surgery my dad was diagnosed with stage 4 pancreatic cancer. 20 days later he passed away. My mom depended on that chair to get back and forth to the hospital until my dad came home. His last week she graduated to a walker and he needed the chair. She said to me, 'I don't know what we would have done without that wheelchair'." ~ HELP Closet Client
In Wausau WI, the Good News Project H.E.L.P. (Health Equipment Lending Program) loans hospital beds, walkers, wheelchairs, commodes, canes, crutches and other medical equipment to those in need. There are no residential or government requirements to 'borrow' an item from our H.E.L.P. closet – only a need, and the need continues to grow!
In 2017 we had 1,977 visits and loaned out 3,025 items from the HELP Closet!
The items we offer for loan are items that have been donated to us. We check over each item, (repairing if needed), clean and sanitize each piece and add it to our inventory.
Currently we have a good inventory of durable medical equipment to loan. Please stop in at our office to pick out the items you need, and take them home with you. If inquiring about availability of a particular item please telephone us to check. (715-843-5985) We would be happy to put a 'hold' on a HELP closet item for 24 hours.
We track the items that go out through a simple loan agreement. A typical 'loan' is for 6 months or less.
There are expenses associated with offering this program to the community. For each item (depending on type) we suggest a tax deductible donation. Your generosity will allow us to repair and maintain items as needed and to acquire additional in-demand items to keep our loan closet stocked.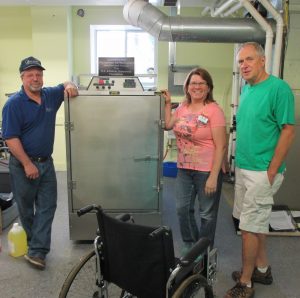 Thanks to a donation by the B.A. and Esther Greenheck Foundation, we recently purchased a refurbished Aquaphase machine. This machine cleans and sanitizes the majority of our medical equipment before it leaves Good News Project.
Some items are offered for purchase if the need is long-term, or if we have a surplus. Contact our office at 715-843-5985 for more details about this option.
*The Good News Project HELP closet is not meant to be a diagnostic medical equipment program. Participants come in knowing what they want/need. Good News Project is not responsible for misused, improperly fitted or incorrectly chosen items. Please consult your healthcare professional before using all items.
Download our HELP Closet brochure (pdf format).
**Good News Project is a small non-profit organization, and does not currently have the ability to offer pick up or delivery services for HELP Closet items. If you are in need of an item, or have one to donate and are having difficulty getting an item to or from us, please call our office at 715-843-5985 and we will try to help you find a solution.
Looking to donate items to our HELP closet? We are currently accepting the following items for donation:
Knee Walkers
Hospital Beds and Mattresses
Bariatric equipment (wheelchairs, shower chairs, shower benches, commodes)
Wheelchairs
Wheelchair Seat Cushions
Power Wheelchairs and Scooters (in working condition)
Bath Chairs and Bath Transfer Benches
Commodes and Toilet Seat Risers
Walkers and Rollators
Crutches and Canes
Disposables: Adult Incontinence Products (tabbed or briefs) (sealed packages or opened ones!), Bed Pads, Wipes
Other high demand items can be found on our wish list. We also accept a variety of other medical equipment. Please call our office for details.