Homes for Families
We build an average of 13 homes for families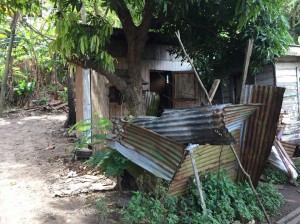 in need each year in the West Indies. We look every year for donors to sponsor a these homes. At the cost of $4,850 your donation can put a roof over the heads of people in need and give them a new lease on life.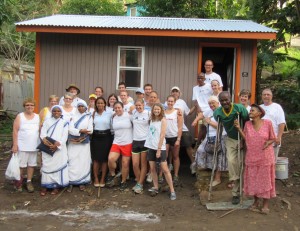 You can even sign up to volunteer and build the home you sponsor!
Visiting the Elderly, Sick, Orphaned, Homebound and Imprisoned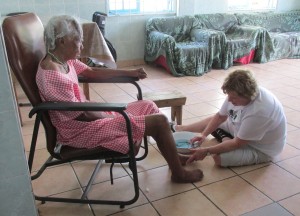 Most volunteers (especially those that visit St Lucia) have had the opportunity to visit people those who are marginalized in society. For example, volunteers have visited nursing homes and brought music, bingo and prizes, hand rubs and manicures for the ladies and other games and conversations.
The Holy Family Children's Home also holds a very special place in our hearts. In 1998 we co-founded the home with the Archdiocese of Castries and the Dominica Sisters of our Lady of Delivrand.

Good News Project volunteers renovated the first home and built the second home in 2000. We now stop by every year when we are in St. Lucia and help fix plumbing problems, rebuild bunks and kitchens and clean or organize space as needed. We also plan a day a the beach with the children!
These are just examples of purposeful and loving interactions that connect us as human beings and help make our world just a bit smaller and more joyful.
Teaching and Education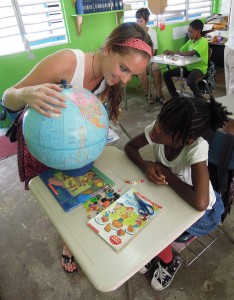 Our volunteers can also visit special needs schools as well as primary and pre-schools offering to 'teach a class session' through a preplanned project. Many times a volunteer will assist a teacher in his/her classroom for the day. Another option is to visit a correctional facility bringing a craft project or educational topic. Over the years our volunteers have initiated some very creative projects of their own to share with institutions in the West Indies. One volunteer developed a third grade art curriculum for the country of St.Vincent in a five to eight year period. Another volunteer established four pen projects on four islands. Quality pens turned on a lathe are made out of local woods giving students a new skill and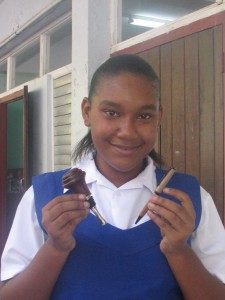 schools a new fundraising tool. Another volunteer taught karate along with self esteem building workshops for youth. Yet another volunteer built chicken pluckers, shipped them through our humanitarian shipping program and delivered to various institutions. He then traveled as a GNP volunteer to teach chicken farmers how to use the machine. The machines pluck three chickens a minute without bruising!