In each country, accommodations include clean sleeping rooms with easy access to toilet and shower facilities. Some even have hot water! Many veteran Good News Project members have cherished memories of living together as an extended family – sharing prayer, recreation and meals – with lots of chicken and fish, and a seemingly endless variety of local vegetables, fruits and juices.
St. Lucia, Castries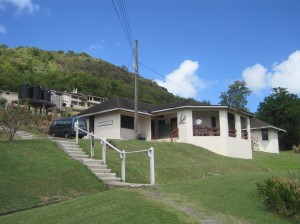 The Pastoral Centre in St. Lucia is a retreat house, with a chapel, dining room, recreation room, and sleeping rooms for about 2 dozen volunteers. The PC is several miles from the capital, but located within walking distance of the beach, and some volunteers make the trek daily (after the days' work is finished) for rest and relaxation.
A general 2-week 'trip' includes many opportunities to help in the community (schools, nursing homes, learning centers, prison, etc) as well as small home construction (painting, building, final details). Transportation to the locations we serve is done via 2 passenger vans that Good News Project owns. We also hire local drivers. Catholic Masses are attended by those in the group that choose to participate. Other worship services may be available depending on the project schedules and interest of the group.
On the weekend between work weeks, you can choose to be a 'tourist' – a visit to the 'world-famous' Market, lunch at a local restaurant, sightseeing and a sailboat day trip are options that make this trip both fun and worthwhile.
Are you interested in reading a day to day journal written by a first time traveler to St Lucia (Castries)? Read all about it in the St Lucia New Traveler Journal (PDF).
St. Lucia, Soufriere
The Roman Catholic Presbytery (Rectory) graciously opens its doors to welcome Good News Project volunteers. The French architecture of this large, three story building is particularly interesting for the full-length front porch on both of the lower two levels and numerous dormer windows on the third floor. Up to 10 volunteers can be accommodated in both double and dormitory style rooms. The large backyard garden area is both beautiful and practical, growing many edible crops as well as flowers. Meals are generally taken on the covered patio that faces the garden. The Church's offices are located in a portion of this building so activity abounds during the daytime hours. Although just a few blocks from the lively downtown area, it is on a quiet side street.
The main downtown square is surrounded by French style two and three story commercial buildings with wrought iron balconies. Several grocery stores, banks and two excellent bakeries are within easy walking distance. The beach is also a short walk and makes a refreshing stop at the end of the workday.
A mission trip to Soufriere offers the opportunity to build homes and work in schools, particularly working in the Fond St. Jacques area which was devastated by the hurricane of October 2010. The outbuildings at the Presbytery include a large covered shed where homes can be partially constructed and painted prior to delivery and assembly at the final home site.
A short drive away there are several interesting sightseeing excursions available including Tet Paul Nature Trail with a small museum and many close-up views of the famous Pitons. The Soufriere Estate, built in 1765, has a botanical garden, Diamond Waterfall and an original sugar cane mill. The famous Sulfur Springs area has been rejuvenated and opened as a National Park in 2009.
Soufriere, the first town established by the French in 1746, is quieter than the bustling Castries area but it is alive with friendly people and beautiful, natural scenery.
Helping others while opening your heart and your life to untold experiences can only result in a two week visit which will provide a lifetime of memories. Welcome to Soufriere!
Dominica, Vieille Case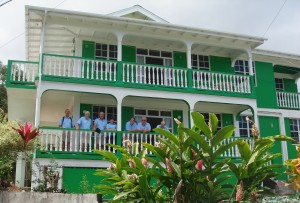 We have had volunteer groups traveling to Northern Dominica for 17 years. Our hosts, John (Soldier Boy) and Sylvia Augustine at the Augustine Guest House, provide a clean place to stay, laundry service and warm West Indian meals for the two weeks our volunteers are there. The guest house is located in a small village, Vieille Case (pronounced "Vee a Coss") making it easy for volunteers to get to know local people. From this location going to the beach involves a little travel and volunteers seem to find more pleasure in visiting the Emerald Falls and cooling off in the inland pools or going to the Purple Turtle restaurant in Portsmouth for a change of pace. A walk down the hill will bring a volunteer to the Vieille Case primary school, a small village grocery or at the town hall, where locals may be seen playing dominos with friends.
Good News Project owns a truck and uses that to get volunteers and supplies to and from project sites. House building has been the primary focus for this group. When time allows, volunteers go into the primary school just down the road and teach crafts.
Dominica, Castle Bruce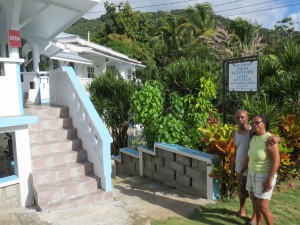 Good News Project volunteer groups of 7-8 people have been staying at Tappas Guest house for many years and spend their time building homes for the people in the Carib Territories. Due to the devastation Tropical Storm Erika, in 2016 we sent an additional service group who stayed at a nearby guest house, Domcans. This was so well received that we will look every year to send two groups, as Domcans will be able to house between 6 – 10 volunteers. Both groups worked together during the day and accomplish so much more! The Castle Bruce area is known as the poorest of the poor in the country of Dominica and yet you will see some of the world's most beautiful basketry come out of this Territory. A view of the ocean couldn't be more beautiful from this Both guest houses are a substantial walk down the mountain to get to the nearest Delta. In this country of 365 rivers, Dominica is known for its "eco-tourism" and lush greenery.
Good News Project owns a truck and uses that to get Castle Bruce volunteer and supplies around the island. The group usually focuses on getting two houses built and makes a point of presenting awards for a reading program in the Castle Bruce primary school.
St. Vincent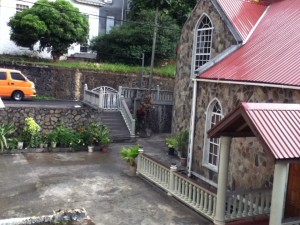 Good News Project volunteers will stay at St. Josephs Convent in Mesopotamia (Mespo) or at the Pastoral Center in Kingstown.
Mespo is a sleepy village in the mountains of St. Vincent. It has a central post office, a small clinic, grocery store and a public and private school. This group may build 1 or 2 houses, depending on construction skill sets of our volunteers. We also have worked in the schools and with the Guadalupe Home for Girls. Within a 45 minute drive, volunteers can plan a day or two in the capital city of Kingstown. A hustle and bustle city which offers a central Market, beach access and botanical gardens. Service opportunities in Kingstown include working in a local soup kitchen and minor repairs at the local homeless shelter.
We hire local drivers to move our volunteers to and from work sites during the two week stay.