WAUSAU, OCTOBER 17, 2017 – Good News Project, a nonprofit organization based in Wausau, WI, has been impacting lives at home and abroad in the Caribbean for 34 years. In that time, they have built many homes for needy families, including 113 homes on the island of Dominica. This organization was shocked to their core as Maria, a category 5 hurricane, tore through the country of Dominica on September 18th, leaving total devastation in its wake.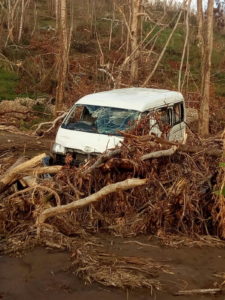 As Hurricane Maria parked over this small island of 74,000 people, members of the Good News Project watched in horror as the 160 mile an hour winds tore roofs from buildings, smashed houses, devastated forests, and claimed lives. As communications were lost, they could only sit and wait and glean what little information they could from outside resources. They waited, hoping to hear that their friends had survived this devastating storm. Their helplessness was palpable. Finally, as communications were restored, Good News Project staff began to hear from their friends on the island and began to develop a plan to aid in the recovery from this vicious disaster.
In an effort to make their 2018 service trip to Dominica as effective as possible, Dr. Charles MacCarthy and longtime Good News Project volunteer, Duane Breid are set to depart for Dominica on Wednesday, October 18th to complete a needs assessment of the island. They will travel via plane to St. Lucia and then take a boat to Dominica. Continued reports of heavy rains, flooding and mud slides in Dominica may inhibit travel once they arrive on the island, but they are determined to access as many areas of the island as they can to compile an accurate assessment of need. Facing many unknowns on this trip does not deter them from their efforts.
"We now have reserved an "apartment" in Portsmouth for our stay. We will have beds, and a generator for light. The rest is still up for grabs. I know the main roads of the island pretty well, and we will try to travel during daylight to avoid any surprises. My packing list looks much like a list for a Boundary Waters canoe trip – toilet paper, mosquito dope, first aid kit, suture kit, water filtration kit, etc. I listened to the Prime Minister tonight as we had dinner, talki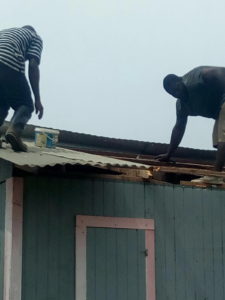 ng about his vision of a, "climate resilient nation". Duane and I will visit the ruins of many Good News houses, and think about that concept. Do we build dozens of houses that will blow away in the next hurricane, or a few sturdy shelters that might protect many in the next storm? Nobody wants to live in a storm shelter. Can we design and build more resistant single family homes at reasonable cost? This will be a challenging trip." – Dr. Charles MacCarthy
It is the hope of Good News Project that this trip will bring clarity and focus to upcoming efforts in aiding Dominica's recovery from Hurricane Maria. For more information or to become involved in recovery efforts or fundraising for Dominica, visit www.goodnewswi.com or call 715-843-5985 Monday – Friday 9am – 5pm.