Good News Project, Inc, is a thriving non-profit organization based in Wausau, WI. The organization is made up of 4 paid staff members, Christine Daniels, Executive Director; Toni Schmitt, Project Manager; Bettina Peters, Local Project Manager; Megan Zeman, International Service Project Manager; 13 non-paid, but very active, Board Members, and hundreds of volunteers (from 8 different countries) that work toward the common goal and mission of the organization: To facilitate meaningful service opportunities at home and abroad.
Meet Christine Daniels, Executive Director
I earned a Bachelor of Science degree at St. Norbert College in 1998. During my college experience, I thoroughly enjoyed a three year internship in the LSI (Leadership Service and Involvement) office. It was at this job where I was first introduced to Good News Project. I traveled with GNP to St. Vincent my senior year and my life was forever changed. After graduation I served one year as a Jesuit Volunteer Corp member in Yakima, Washington. Now a 16 year staff member at Good News Project, I have seen the organization grow from an office in the founder's basement in Schofield to a busy office and warehouse just north of downtown Wausau. Through my work at Good News Project, I met my husband, John. We are blessed with four daughters and one son. I am a member of the Wausau Noon Optimist club and serve on two boards: Colossal Fossils and Emergency Food & Shelter Program.
Meet Toni Schmitt- H.E.L.P Project Manager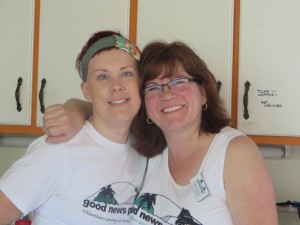 I started working at Good News Project in July of 2012 after volunteering as a member of the Board of Directors for 8 years. I successfully ran my own salon/spa for 20+ years until selling the business to my niece and re-inventing myself. I traveled to St Lucia for the first time in January of 2012 with Good News Project, and return as a trip leader each year. I feel that my experience in business ownership, communication and leadership, along with years of community volunteering, made working for a nonprofit a perfect position for me. My passion is with customer service and I really enjoy working with the Health Equipment Lending Program that Good News Project offers.
Meet Bettina Peters- Local Project Manager
I graduated in 2013 with an Associate degree in Human Services and Human Services AODA from Northcentral Technical College. I also earned my Bachelor of Science in Social Work from UW-Superior. My passion for service and dedication to helping others has made me an active volunteer in the community, working with many different organizations over the years. Working at Good News Project allows me to serve others, both at home and abroad, while working with an amazing group of staff and volunteers who care deeply about the work that we do. I am blessed and excited to be part of the team.
Meet Megan Zeman- International Service Project Manager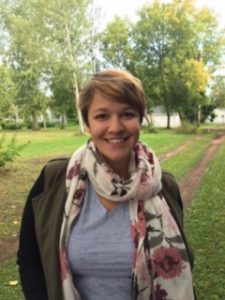 After receiving my degree in early childhood education in 2006, I was accepted into a global student teaching program and taught at a British international school in Seoul, South Korea. There, I immersed myself in the Korean culture. I loved every moment, working with the international staff and teaching children from across the globe! The following year my husband and I moved back to the United States where I continued to teach until we started our family. In 2015, I returned to work as the assistant director at a children's learning center in River Falls. As an educator, I have had years of experience planning and organizing lesson plans and projects for my students. I have loved serving my community as an educator. Today I am thrilled to be serving both our local and global community through the work of the Good News Project! I am grateful and so very hopeful for what is to come!
Meet Noella Sankar – Independent contractor in St Lucia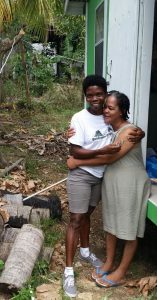 Noella met Good News Project founders, Chuck & Peggy MacCarthy in 1987, while attending the Corpus Christi Girls Vocational School. Since 1992, Noella has been an active Good News Project volunteer at many levels: Traveling to St. Vincent in the musical group, working in St. Lucian schools and institutions alongside other GNP volunteers, coordinating the reception of humanitarian shipments in St. Lucia and leading the local committee in home visits and family selection for new houses. In 2015, Noella independently contracted with GNP in order to represent and advocate for us in the West Indies. The Good News Project office, which Noella works out of, is located on the grounds of the Cardinal Kelvin Felix Archdiocesan Pastoral Centre in Marisule, St. Lucia. Noella connects with prospective house recipients, government, businesses and institutions on our behalf. Noella's family members are Good News volunteers as they often help unload shipments, organize the container and paint lumber for new houses.
President: Mike Sellman, River Falls, WI; consultant
Vice President: Barth Wolf, Green Bay, WI; retired VP & CLO at Integrys Energy Group
Secretary: Michelle Lindell, Wausau, WI; Teacher; Wausau Engineering & Global Leadership Academy.
Treasurer: Maria Bruggink, Wausau, WI; Tax Partner at Wipfli, LLP
Marie Kieffer, Wausau, WI; owner, Verve Salon
Jeffrey Lamont, MD; Wausau, WI; Marshfield Clinic Pediatrician
Charles MacCarthy, MD, Wausau, WI; co-founder, retired ophthalmologist
Peggy MacCarthy, Wausau, WI; co-founder
Corina Norrbom, MD; Eland, WI; Aspirus Walk-In; WIPPS Health Policy Fellow
George Nugent, Lakeville, MN; Deacon
Sara Sulzer, Mosinee, WI; Social Worker; Adjunct Educator at MSTC; stay-at-home-mom
Doug Thomas, Wrightstown,WI; retired engineer at Kimberly Clark

Robin Van Zeeland, Kaukauna, WI; owner, Van Zeeland Mfg., Inc.
Advisory Committee
Bruce Abbott, Wausau, WI; engineer, Building Consultants Inc.
Mark Bradley, Wausau, WI; attorney, Ruder Ware
Karla Kieffer, Wausau, WI; vice president, Sun Printing
Stewart Laird, St. Paul, MN; retired health care executive, non-profit consultant
Pat Peckham, Wausau, WI.; retired journalist
Mary Ellen Schill, Wausau, WI.; attorney, Ruder Ware
The Board of Directors has approved the formation of a new Caribbean Advisory Committee.
Archbishop Robert Rivas, Archdiocese of Castries, St. Lucia
Bishop Gabriel Malzaire, Diocese of Roseau, Dominica
Trudy O. Glasgow, Attorney, Rodney Bay, St. Lucia*
Adrian Theobalds, Engineer, Castries, St. Lucia*
Lisle Chase, Chartered Accountant, Castries, St. Lucia*
Monsignor Michael Stewart, St. Vincent
*= members of Rotary Club of Gros Islet, St. Lucia