In 2013, Good News Project celebrated 30 years as a nonprofit.
Many of our members shared stories with us regarding their experiences. . .
For more personal tributes to Good News Project, click here.
Who would have dreamed that our merry band "TAKE FIVE" could evolve into something so astounding and so worthwhile?  When I joined the MacCarthys and the Closes as the fifth member of their band, I never imagined where Peg and Chuck would eventually lead us; first St. Lucia for Liturgical Music Workshops and then the larger-than-life "Good News Project".  What a blessing in our lives! ~ Barbara Lattimer
————————————————————————
When I think and remember GOOD NEWS way back in 1983, I hear drums, music and the beginning of a new music ministry at the Cathedral of the Immaculate Conception.  Their presence, witness and missionary zeal deepened my interest in Religious Life and my commitment to serve God's people.  I entered Religious Life two years  later.
I continue to share in their mission wherever I can and it is indeed a humbling experience to see how devoted Peggy and Chuck are to St Lucia even with their health issues.
Today St Joseph's Convent is making its mark as entrepreneurs as, thanks to GOOD NEWS, they have benefitted from a woodwork project in pen making.  This project is enabling students to develop skills and provides part time employment for workers.  This project as it continues to grow will assist with the school's charitable outreach.
I take this opportunity to thank Chuck and Peggy for that bold step they took 30 years ago – BRAVO, ad multos annos and may God continue to reward and bless you abundantly. ~ Sr. Rufina Donat (Principal of St. Joseph School for Girls)
————————————————————————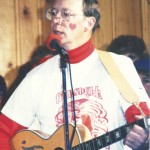 30 years!  In 1983, who could have imagined that a music trip to St. Lucia would be the catalyst for a humanitarian project that would greatly benefit countless people for  decades…givers, as well as recipients.
We are all thankful to you, Peg and Chuck, for your vision, guidance, and friendship through the years.  You are truly, GOOD NEWS. ~ Love, Lou and Bette Close
————————————————————————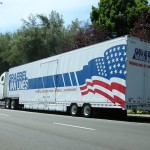 Dear Friends – Where has the time gone?  Indeed I remember the "seed" – just a few people who are the nicest, loving, caring folks any community – or if for that matter, the world – could ever have.  It's been fun to be of help. ~ Dave Graebel
————————————————————————
In 1984, we went to St. Lucia with Peg and Chuck. On the way we stopped in NY City to get blessings from their UN ambassador.  On the Island, Chuck and Peg began setting up many of the programs we have completed in the last 30 years.  Barb worked with Fr. Jack MD in his hospital in Vieux Fort–complete with one blood pressure cuff for the entire hospital.  Ben arranged equipment deliveries between NTC and their technical school and made connections between NTC Ag department and the only dairy farm on the Island.  In his free time, Ben set standards for sun burn pain that have never been equaled.  We divided our time between the southern part of the Island and the capital.  On the last night the hotel clerk cut our bill in half because we knew Fr. Dr. Jack.  Now that is respect!!!! ~ Ben and Barbara Powell
————————————————————————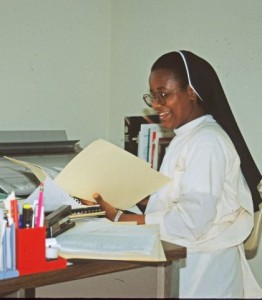 "From a singing and exploration band Good News Project grew into planners, house builders, service providers and team players weaving the local fabric of our land Saint Lucia."  ~ Sr. Marie Therese Clement O.P.
————————————————————————
Bob and I both treasure the experiences we shared with the people of St. Lucia and St. Vincent.  We always marveled at the way they lived their faith and seemed so happy.  We remember the people like Minnett, a nurse, who moved to St. Vincent  from Canada after her husband died, to help Father Roland with the children's hospital.  She appreciated all the work of Good News and was very helpful to Bob and myself whenever we were there.
Father Michael was another great friend when we worked out of Mespo.  Being a native, he knew his people, and was always very helpful.   Sister Marguerite from Ireland was another very helpful person and always cared about programs to help the women of St. Vincent.  The other sisters who we worked with in the schools were remarkable in what they could accomplish with so little.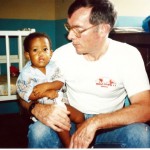 We loved the volunteers that worked with us in Layou.  Everyone pitched in by making meals, going to market etc. doing what they could to make our two week stay enjoyable.  And the sea baths at the end of each day were so refreshing.   Traveling with the choir to do Fund Raisers in St. Lucia, St. Vincent, and Dominica are nice memories.   After 30 years the program that started in 1983 is still going strong, thanks to the vision and hard work of Peggy & Chuck. ~ Lucy and Bob Cadwell 
 ————————————————————————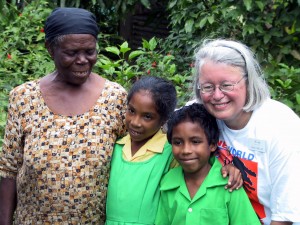 What is the Good News?  We're building homes and lives, giving healing gifts in the medical arena and teaching skills in the schools.  We are sharing the gifts of the Spirit in a unique cultural exchange!  ~ Grace Mueller
————————————————————————
It was August 1983 when I first encountered the small pioneering group of what is known today as "Good News Project." They made that inaugural visit to my homeland, St. Lucia, under the name "Take Five," as the group consisted of five musicians: Chuck MacCarthy, the keyboardist and the group leader, Peg MacCarthy on percussion, Lou Close on banjo, accordion and vocals, Bette Close on the piano and Barbara Lattimer as lead vocalist. They toured a few parishes sharing their musical talents and entertaining the locals. In fact, their version of the hymn "This Little Light of Mine" has been indelibly planted on my mind and it has since been a regular feature of my own repertoire.
"Take Five" came at the invitation of Fr. Jack MacCarthy, brother of Chuck MacCarthy and a medical doctor, who was already giving voluntary medical service at St. Jude's Hospital in the south of the island.
That year, the newly coined Good News Group began an evolutionary process to what it is presently. Beginning in St. Lucia in 1983 and expanding to St. Vincent in 1989 and to Dominica in 1994, the group has undertaken numerous forms of humanitarian projects and ventures, which have only left the Caribbean recipients satisfied, be they, health clinics, voluntary work in schools, care for the elderly, building small dwelling houses for the less fortunate, etc.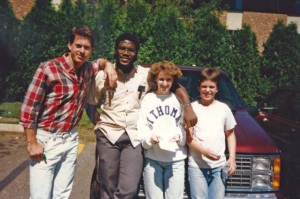 A significant component of the annual visits is the depth of relationships that have developed between the Good News membership and us. As is expected, once relationships are established, the interactions go beyond the annual visits, especially in this age of easy travel and advanced forms of communication. For me personally, since 1983 I have been regarded as a member of the MacCarthy family; and I am not the only Caribbean person who can make that claim. The vacations in Wausau, relaxation in beautiful Door County and Wabasha, Minnesota, camping in the Boundary Waters are but a few indications of that relationship. When a couple finds it fitting to travel thousands of miles to attend one's ordination to the deaconate, the priesthood and the episcopate, and even to attend his father's funeral, it says something of that relationship. It may sound trivial in the context of this article, but these are valued gestures. This, to my mind, is the real Good News.
I wish to make special mention of a section of the Good News initiative which hails from Lakeville in Minnesota. They refer to themselves as the "Blue Shirt Apostles" under the zealous leadership of the 82 year old Deacon George Nugent. Their parish, All Saints, has for the past several of the nineteen years they have been coming to Dominica, established a twinning relationship with St. Andrew's Parish. In November 2004 St. Andrew's lost its church to an earthquake. Over the last eight years of its reconstruction, this All Saints Parish contributed a total of US$235,543.00 to the project which cost a total of US$530,000.00. I feel it is worth mentioning in order to express our deep appreciation for this level of relationship.
I believe that the influence of the Good News Project is as wide as the United States itself. I would not be surprised if over the thirty years of its existence, the volunteers have come from every state of the Union. The additional beauty of such influence is that it has attracted both the young and not so young, and religious persuasion was not a criterion for affiliation. Therefore the annual contingents were always ecumenical in composition without making any particular statement about it. People were motivated by good will and the desire to serve their fellow human beings in greater need.
I say the latter with some reservation, in that, any member of Good News will attest to the truth that they received from those they served in the islands as much as they gave, albeit in different forms. Of importance, is the fact that in the end all came through with a deep sense of satisfaction. It is exactly and simply what happens when people of good will meet.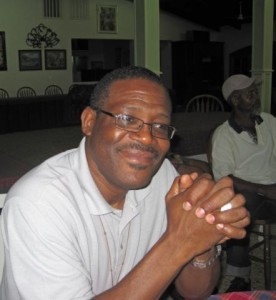 It is therefore fitting, that on the occasion of the celebration of the Thirtieth Anniversary of the existence of the "Good News Project," to commend, congratulate and thank Chuck and Peg MacCarthy, their collaborators and all who have been part of Good News, for their contribution in making this venture what it has been – a true and practical manifestation of the Gospel of Jesus Christ, the Good News par excellence. ~Bishop Gabriel Malzaire
————————————————————————
The contribution of Good News goes a long way. Where do I start? The list is so long. When I've been down and out, when I don't have any of the equipment I need…it is Good News on board. The joy the girls find when the Good News members come to teach them many different things. Not only do they teach them, they inspire the children in different ways. They bring fun into their lives. What a blessing in our lives! There isn't a price you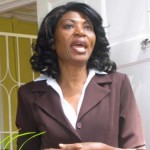 can put to this contribution, to your leaving home and coming to work with our people. Teaching them, encouraging them, bringing joy, bringing fun, bringing laughter." ~ Prisca St. Paul (director of Upton Gardens Girls Centre)