Our financial records are an open book; available to anyone on request. We are audited annually by Krause, Howard & Co. Let us know if you would like a more detailed report.
Income and Expenses
Good News volunteers pay their own travel and living expenses. Financial support for building materials, medical and craft supplies, tools, administration and other expenses comes from many sources, including our house sponsorship program, our electronic recycling program, individual and corporate donors, churches, and other service organizations. Our list of participants, donors and friends includes almost 4000 names. We'd be delighted to add your name to the list!
Contributions may be made directly to Good News Project, or to the 'Good News Fund' of the Community Foundation of North Central Wisconsin. The Foundation will assist donors interested in donating appreciated stock, or in planned giving through wills, insurance trusts, or other vehicles.
Our fiscal year runs from March 1 until Feb 28th.  We publish an Annual Report each year and make it available for everyone to view.
2016 Annual Report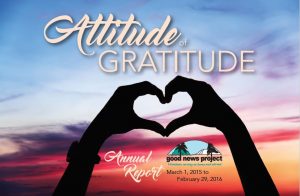 Please download our 2016 Annual Report
2015 Annual Report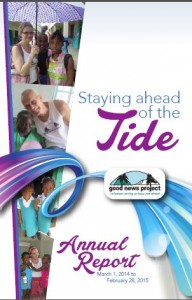 Please download our 2015 Annual Report